New collection.
Home Made By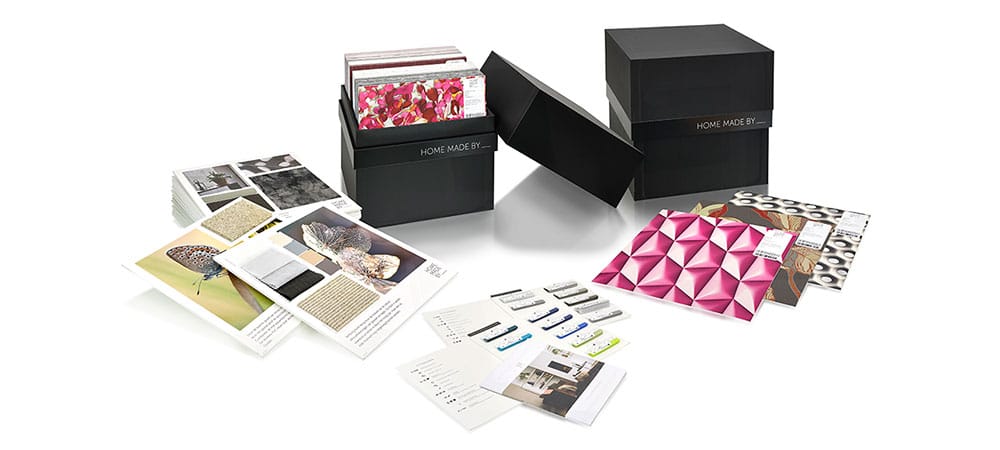 The request
By order of Home Made By (and with pride), Venttri delivered and produced the technical design of almost their entire new collection. Home Made By is a collection brand and a young player in the interior industry.
The execution
The project comprehended the entire fulfilment process, from development of the presentation tools to supplying the growing network of Home Made By shops (about 80 establishments). The Venttri production location in Goirle adhered the curtain, wallpaper, blinds, paint and carpet samples to mood boards. The supplied wallpaper scrolls were custom cut and manufactured two-sided. The result was stylish wallpaper cards in 129 types.
The samples of window decoration products, such as the venetian and pleated styles, were also processed on the cards. This allowed the affiliated stores to present their collection to the customers in an appealing and comprehensive manner, with removable samples. In addition, we produced curtain swatches in gold, white and black, so that the curtain collection is shaped in a striking manner. Solid MDF boxes with lids that seamlessly align with the Home Made By corporate style make the collections comprehensive, convenient and portable.
The customer's experience
Together with Venttri, we started a highly ambitious project to provide 80 stores with new presentation resources. Thanks to the direct contact, the joint search for solutions and the input by Venttri, the process was successful. Most importantly, we experienced that Venttri never let us down at the crucial moments! We will continue on this path with this company in full confidence, working towards new products and refining our first edition.