This is how Venttri works.
Method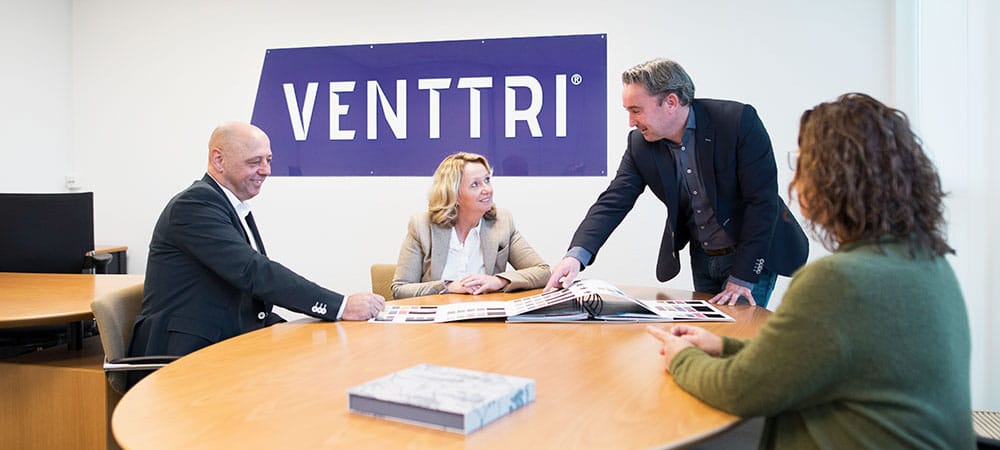 Advice
Our presentation products have become rather complicated throughout the past years, as each of our products is a custom project. This includes sample books or high-end presentation boxes. It is essential that the client is well-informed of the full range of options. This is why I always work closely with the client to pinpoint the exact objective and need. What is being presented? How and how often will the presentation product be used? What impression does the client wish to make? We then translate each of these wishes into an original custom presentation product. I always enjoy seeing the final product. It's great to see how everything comes together!
Ruud / Sales advisor
Development
The sales advisor has already put thought into the type of presentation product and material selection best suited to the client's wishes. My job is to bring the product to life and test it for use – within the client's budget, of course. With a team of creative minds, I come up with ideas and prepare sketches and drawings. This process is both technical and creative. We are always on the lookout for unique solutions to add a special touch to the presentation product. Even after 25 years, this still keeps me on my toes!
Jurgen / Developer
Production
We have a wide range of modern machinery, but for detailed and complicated adhesive work we only trust our own hands. Together with my colleagues from the manual finishing department, I affix the finishing touches of various types of presentation products. It is precision work which requires a great deal of accuracy. The end result must be up to par – that is, after all, exactly why the client has come to us. It is enjoyable work but certainly demanding! It's not the kind of work that you can do on auto-pilot. Luckily, I very much enjoy working with my hands.
Ingrid / Manual finishing
Production
As machine operator in the adhesive department, I add a decorative layer to our presentation products: literally and figuratively. Cardboard can be covered with various materials. I keep a sharp eye on the machine and the end product. The machine has a high capacity and can process a 7-meter stack of cardboard per hour, which I find quite impressive. I am also responsible for quality control. The product cannot be damaged, and the corners need to be perfect. Each order is unique. This means being thoroughly familiar with the instructions and ensuring highly accurate machine settings.
Ricky / Machine-operator