Beautifully displayed.
Sample presentations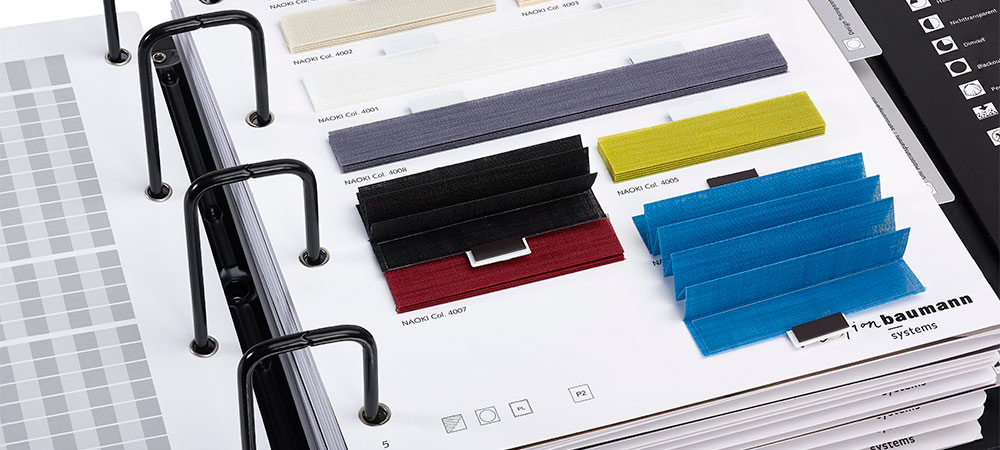 Sample presentations such as a sample book or sample case are a good way to show a product or collection in a stylish way. They're like a mini-display window: compact, stylish, handy, easy to transport and make the story you're telling tangible.
Do you have questions about a product?
Our employee is happy to help you.
Sample productions
Venttri and Maxxisample take care of it
Are you looking for a company which can take care of the total content and processing of samples? We're happy to take care of that too: our sister company Maxxisample in Czechia is specialised in it.
Read more
Maxxisample is equipped with all the important processing techniques necessary for processing samples. Processing fabric, wood or aluminium into representative samples and sample cards is not easy. Maxxisample has the knowhow and yearlong experience to realise this for you in a professional way. From cutting to producing, we make sure that your material is presented in the right way.

Complete production
Put us to work
The production of sample productions is a big job. Good to know: we take care of the entire production and deliver sample books and sample cases which you can show with pride. For sample cards and headers too you've come to the right place.
Read more
Venttri has been working for years with various leading names from the industry. We are especially proud that we can sit down with our clients at the start of the trajectory to come to the best product together. Both in the technological as well as aesthetical field. A sample book or sample case offers protection, organises your collection, is handy and easy to carry. But it mostly connects seamlessly with your products. A custom product tailored to meet your wishes. This is how it's done!