Want a luxury, printed ring binder that catches the eye?
Customised ring binders printed in your organisation's house style!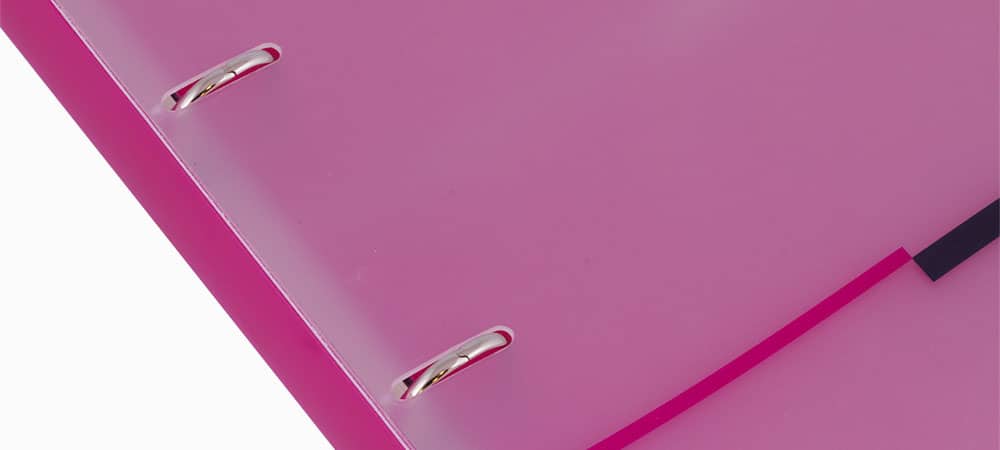 Venttri has a practical and creative solution for every issue. A high-quality binder by Venttri brings your expression, product or service to a higher level. And perfect for a convincing presentation. Complete the folder with a window for a business card, an triangle insert to add a loose information sheet to the inside of the cover, a pen holder or printed tabs in your house style, for example. The possibilities are endless.
What material are you looking for?
The first impression has to be good.
Not only the design but also the material of the folder immediately catches the eye. If you are looking for a design with an eco-footprint, a binder with printed natural cardboard is a great option. Or are you looking for a folder with a sleek, modern design? Then a customised aluminium ring binder might be more appropriate. We will be happy to advise you on the many possibilities. Together with you, we will achieve the best result!
Materials
Choose a material for the ring binder
At Venttri, you can opt for many additions.
Think of beautiful details such as:
Venttri you can also offers the option of extra additions to your binder. For example, a business card pocket, thread pocket, spine pocket, metal grip hole or nickel ornamental corners for protection. There are various possibilities for printed tabs when it comes to material and execution as well. Venttri makes your binder extra special and adds to user friendliness.
Nickel decorative corners for protection;
A textile label to print your logo on;
The ring mechanism in corporate colours;
Mechanic slots in the front cover for a firm closure of the folder;
A die-cut hole in the cover to reveal part of the contents;

 

Or part of your presentation material incorporated into the cover;
An embossed logo for an extra luxurious look of the ring binder;
The use of leather, rope or other natural materials;
Scratch-resistant soft touch laminate as a finish around the cover;
In short, the possibilities are endless! Venttri makes your ring binder extra special and we increase the ease of use. See below examples of ring binders we have made for our customers.
Extras
Also think about...
What are the binder's user requirements?
Through these questions, we will get to the best end result together.
Custom-made ring binders in house style
From idea to finished product.
What comes in the folder?
Depending on the content, we choose the type and format of the mechanism. A ring mechanism for perforated sheets. Or elastic wires to hold magazines.
Do you also want to insert loose brochures or documents?
This is also possible using insertion corners on the cover.
Convenience of a grip hole
When the folder is stored in the cupboard, a grip hole can offer a lot of user comfort.
Sort content by tabs
Standard tab sheets but also customised tab sheets to suit the content. There are various options in terms of material and design.
Always a pen to hand
With the pen holder, never fuss with lost pens again.
We will be happy to advise you on the many possibilities.