Succesful launch collection.
Tibelly® awning cloth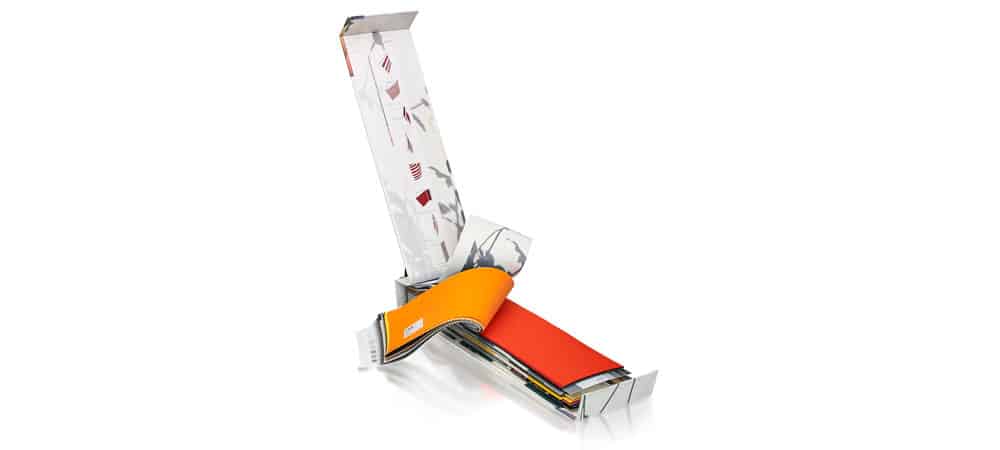 The request
Hylas is specialised in manufacturing textile cloth for the awning industry and supplies both the corporate and the private market. Due to corporate changes, Hylas was now, for the first time since its establishment, fully responsible for the production of the sample collection of their private label, Tibelly®.
The execution
Venttri produced large and smaller swatch books for Hylas. That does not include hanging sets of acrylic cloth in 76 colours and hanging sets with screen cloth in 48 colours. That added up to a total of thousands of hanging sets and swatch books.
The large swatch books are made of extra thick grey board covered with printing. The design of the print was supplied by Hylas, the printing was provided by Venttri. Although Hylas provided cut cloth on its own for the hanging sets, Venttri took on the task of cutting the cloth for the swatch books. The roles of cloth were supplied by Maxxisample in the Czech Republic, Venttri's sister company that is specialised in processing large quantities of fabric samples. Venttri also advised on the correct distribution of the sets to the dealers and even took care of a part of it.
The customer's experience
Anyone who has ever been involved in composing a sample production knows that any order requires a lot of precision and that a small mistake can have major consequences. "That is why I was looking for an absolutely reliable partner", says Pieter Willemsen, Director of Hylas. "We picked Venttri thanks to the pleasant communication we had and the good advice we received. Our contact persons were very involved, which built trust", says Willemsen. The only thing he can say is that Venttri fully unburdened him in the production of the sample collection for Tibelly: "Venttri could not possibly have helped us any more than they have.