Product Launch in Corona Age.
Canon Europe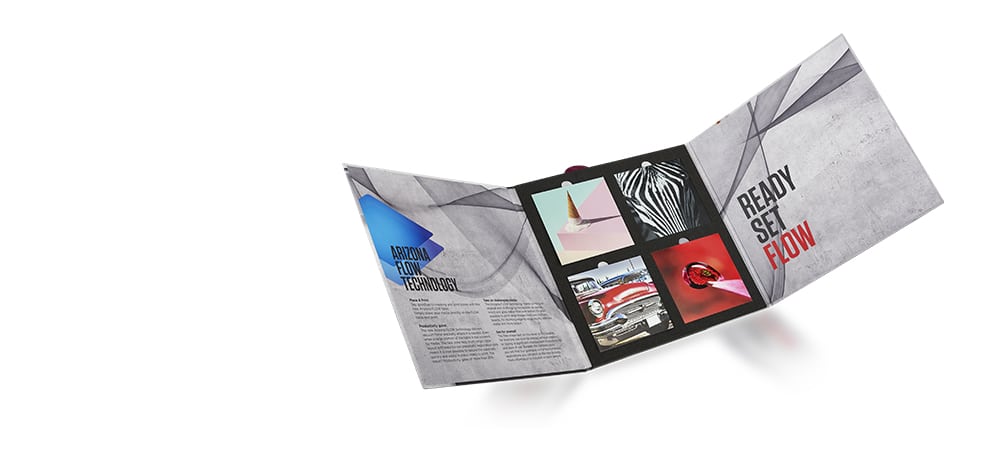 The request
The Canon Europe Product Team faced an interesting challenge: how do we launch a new line, the Arizona 2300 Series, in Corona time? How are we going to attract attention? Canon was used to demonstrating large format printers live, face-to-face, in the presence of many international (potential) customers and press relations. Due to the corona guidelines, this was not possible.
Canon is a leading innovator and supplier of imaging and printing solutions worldwide: www.canon.co.uk
The execution
Stefanie Schumann, European Product Manager Large Format Graphics EMEA: "We realized that an online launch would be the only way, but we also wanted to give our customers and partners something tangible, something personal, so that they could really get a feel for what the Arizona 2300 series stands for. As a solution we have opted for a powerful combination of offline and online. As part of the invitation process for the online launch event, we sent a mail mailing to our European VIP customers. In the letterbox they found a large package containing a presentation folder. In this professional folder we explain the benefits of the Arizona 2300, using 4 different samples.
Just like the format of the presentation folder, the impact of the mailing was great. Even before the online launch took place, our account managers received positive reactions to the presentation folders. This meant that they could immediately enter into a substantive conversation with the customers, even before the launch.''
The customer's experience
Ms. Schumann about the process: "Venttri contributed very well to the creation of the presentation folder, advised and provided ideas. With a perfect outcome as a result. The presentation folder not only proved its value during the product launch, but even today, in the daily conversations that our sales people have with customers.