Project folder with furniture fabric samples
211417
In this project folder, you will find an extensive collection of furniture fabrics. These samples have not only been carefully cut but also organized by color for easy selection of the perfect fabric for any project.
Clear 2-fold sample cards with convenient windows
These sample cards are designed with your convenience in mind. Each 2-fold sheet comes with a helpful window on the front,
allowing you to view the fabric without unfolding the sheet.
This significantly simplifies the process of choosing the right fabric.
All key specifications on the back
We have included detailed fabric specifications on the back of each sheet. Here, you will find information such as fabric composition, lead times, dimensions, and other relevant technical data. This ensures that there is ample space on the front of the sheet for an attractive presentation of the fabrics.
Durable and future-proof design
Our project folder is designed with durability in mind. Even with extensive use, this folder retains its neat appearance. The sheets are equipped with sturdy aluminium rings, ensuring that the mechanism won't damage the sheets, even with frequent flipping. Furthermore, the samples are optimally protected as the sheet can be conveniently folded in and out of the folder's 2-fold design.
Convenient design
Thanks to its A4 size and practical carry loop, our project folder is highly portable and easy to take with you. Whether you're at the office, with a client, or on the go, you'll always have access to your extensive collection of furniture fabrics.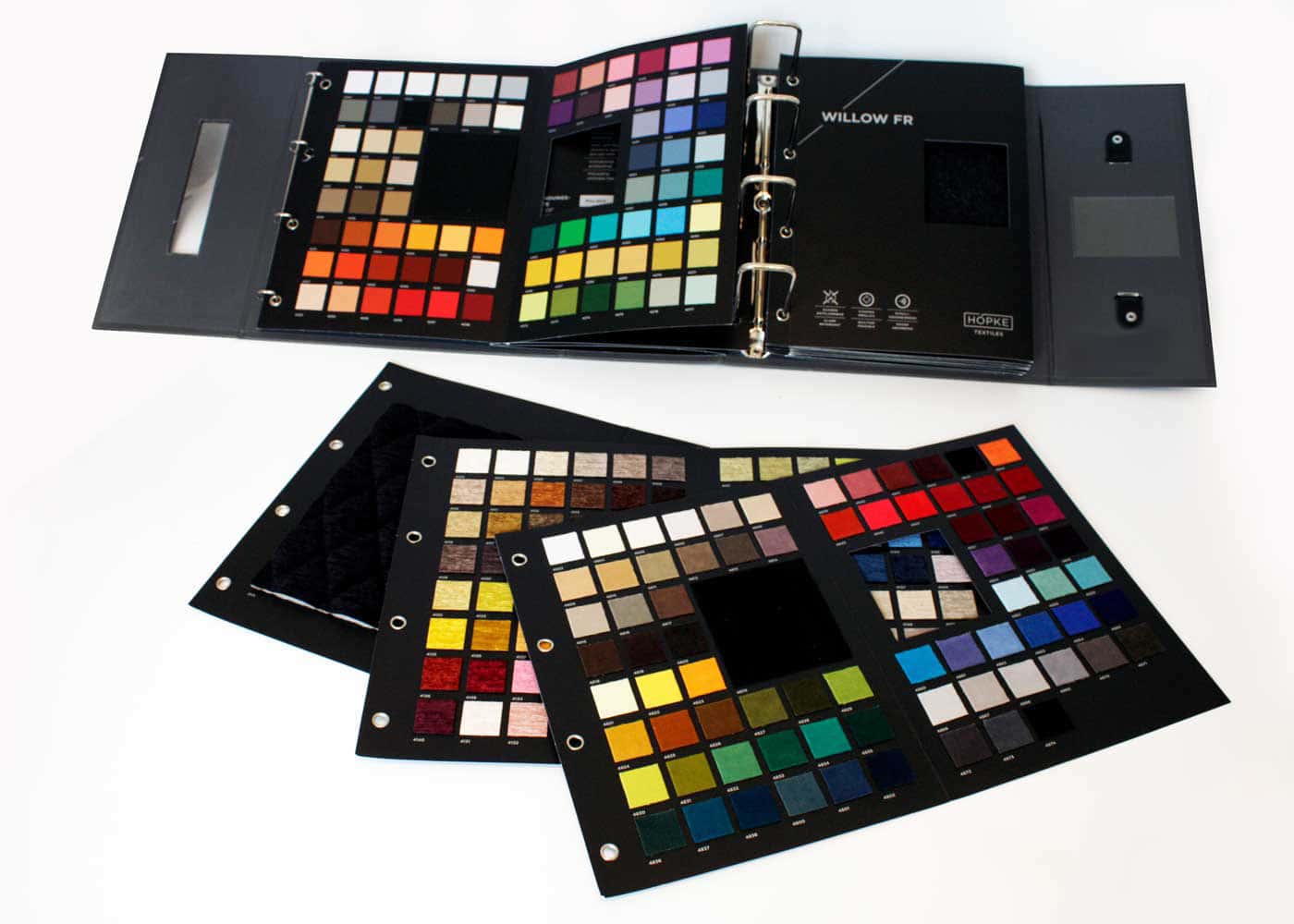 Fabric processing techniques
Cold cutting
Our cold cutting technique is based on the traditional method of cutting materials. This process is known for its precision and durability. By applying cold cutting, we ensure that each material is carefully and precisely cut with sharp edges and perfect dimensions. This guarantees that your samples always look neat and professional, even after prolonged use.
Laser cutting
If you require samples with intricate details or complex shapes, our laser cutting process is the ideal choice. Laser cutting utilizes advanced lasers to create highly precise cuts. This allows us to produce samples with complicated designs and extremely refined details. This is particularly useful when you need samples with specific patterns or cutouts to bring your designs to life.
At Venttri, we strive to make your furniture fabric selection process as effortless and professional as possible. Our project folder is the perfect companion for interior designers, furniture makers, and anyone in search of high-quality furniture fabrics. Discover the benefits of our project folders! Curious about what we can create and develop for you? Contact us to learn more!